Competitiveness!! Continued Research & Development
Listen attentively from markets!! Research & Production & All employees support Marketign!!
New Products, Just on time !! Accept Commercial Technology with Humility !!
SIMPLE ・ SLIM ・ SPEED ・ SMART
Company Profile
Company Profile

About usCompany StatusCEO Greeting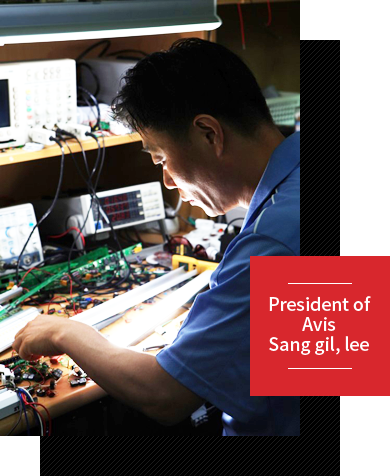 AVIS's research and development team supplies the best price of LED products, and also delivers satisfaction to everyone.
AVIS CO., Ltd. Provides a one-stop service to process from variable schemes and designs to mass production of LED Lamps. So that customers can get thehighest outcome with our efforts.
4S Strategy (Simple, Slim, Speed, and Smart) is a motto and coexisting strategy to maintain and to keep as a best condition of AVIS organization, it delivers extreme satisfaction to our valuable clients.
AVIS staff has variable experience with enthusiasm, will show accurate and higher quality of LED Lighting Solutions through our 4S Strategy that clients need.
We promise that our clients acquire infinite worth and feel happiness with us. Thanks.